Week four started on Friday 19 April 2013 with another visit to the Bedford Place area. First up was Bedford's, which was a lot better than I thought. It has always been one of my more favourable establishments in that area (as a lot of the others are very pretentious) but it seemed to have something for everyone. Great value food, including four different pies for just £5…wow! Must check that out on some idle Sunday. It was pretty busy but not quite heaving and a DJ was going through the throes of getting ready to party. In some ways, I regretted having to move on but I did so.
Next up was The Pensioners. This used to be a nice traditional pub but now it has reinvented itself in the same way as 50-year-olds who wear skimpy clothing. At first it was completely dead then a couple sat down at the table behind and were firing allegations at each other. As these were getting increasingly hostile then I moved elsewhere and saw a disco ball but it was evident that the last time they had a disco then the pensioners in question must have been but young whippersnappers.
My final stop on another brief evening out (must pace myself!) was Varsity (London Road), which features a somewhat industrial interior, with exposed functional brickwork, metal beams and supersize ventilation trunking. My first visit to here was in late 2001 (or not far off) and it has changed little. My last visit, funnily enough, was on a Friday night. Now that is going against one of my original principles, that I would visit each venue at a different day of the week/time; however, my intention this time was to achieve a mix of pretentious and non-pretentious venues each visit to try and make the ordeal more bearable.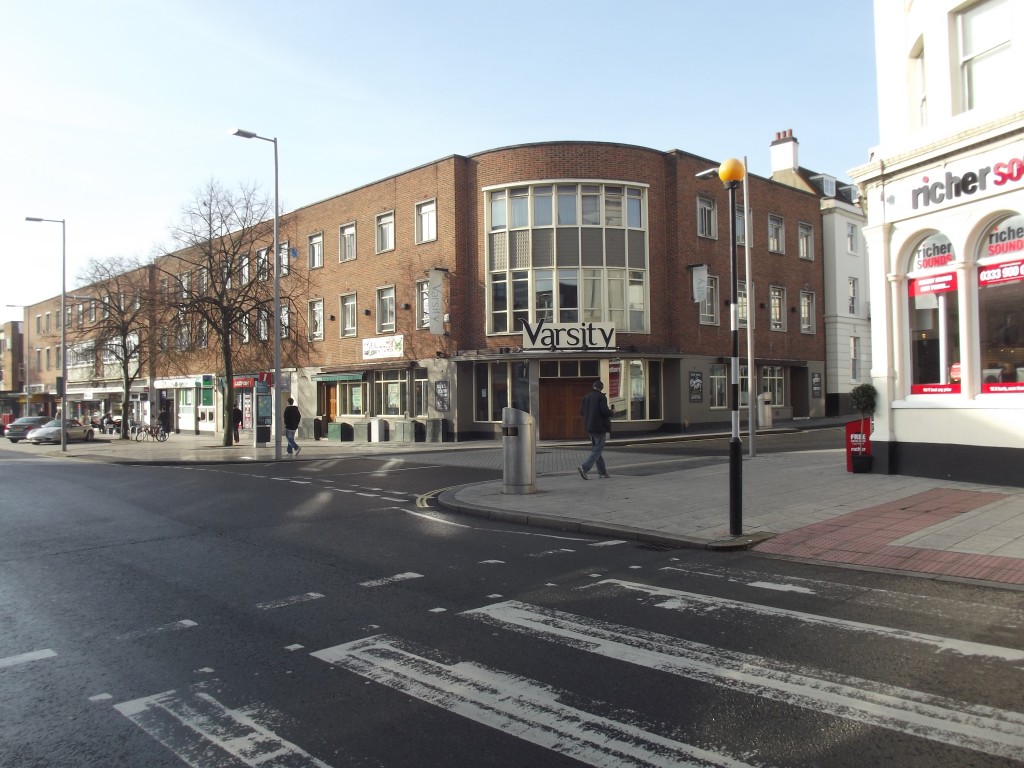 Varsity was absolutely heaving but curiously, there were a few welcome empty tables. Drinks were ridiculously cheap (£1.89 for a pint of Courage Best?!) and the food was very good value too, although sadly not sampled. There was loud music but no sign of a DJ or anything. It has two floors; the mezzanine floor upstairs was not party to an inspection this time but I assume nothing has changed up there either.
Sat 20 Apr 2013
I had long promised that I would visit Eastleigh when we had a nice weekend so on a beautiful and rare sunny Saturday, I started off the proceedings in the Good Companions. I really like this pub. It's not as perfect with regard to contemporary décor and such things but that gives it a personality. The landlord was talking to his customers about ale, so in terms of educating publicans about CAMRA, it was clearly preaching to the converted.
It has two bars on the ground floor, although I have only sampled the lounge bar. There's also a function room upstairs, which has been used for CAMRA meetings. Directors and Hobgoblin are a permanent presence and the pub does food at sensible prices, as well as live music, pool and darts. There's also a grey parrot in one corner and I regret not introducing myself to him/her.
En route to the next pub, down Leigh Road, I passed the Holiday Inn, formerly known as the Crest Hotel. When I was a kid there was a model of Jeremy Fisher on the corner of Leigh Road and Passfield Avenue. It's one of the venues I am the rep for but that has to wait for another day. I did take a photo though.
On the opposite side of the Leigh Road/Woodside Avenue junction is a former pub that I only went in once – The Leigh. This imposing Mock-Tudor building is definitely a landmark and it is a shame that it closed as a pub. However, it has been refurbished to a high standard, retaining some of its original features but is now an Indian restaurant.
The Gateway was my next stop; this has to be the worst location for a pub ever – in the middle of a sliproad that spirals up to the M3 motorway from the main road into Eastleigh. It's a large wooden shed, deliberately done in a rustic sty-le mostly used as a budget hotel (not one I'd like to sleep in) but with a cave-like pub/restaurant on the ground floor, with no little or windows in an attempt to disguise its location. I've heard of subdued lighting but this was like a cave. If I was going for a romantic meal then maybe it would have atmosphere but if I took a date to a romantic meal in the middle of a motorway junction then I don't think I'd hear from my intended ever again.
My grumbles were also around the pub itself. It has a rostrum saying 'please wait to be seated' but due to the total lack of any staff, I inspected the bar and it didn't appear to be for staff use only. So I waited at the bar to be served, still with no sign of any staff for about three minutes. I was about to leave and mark it as 'Attempt for service failed' but then I was served and sat down. The lack of free wi-fi added to my frustration and the complete lack of any life, any soul, any atmosphere was soul-destroying.
After a brief stop at Eastleigh Library, to see the local history collection, I went outside to the Chamberlayne Arms, a pub I've never been in despite spending over 20 years visiting my hometown on an almost-daily basis. It was surprisingly quiet inside and surprisingly large too. There are nice historic photos on the walls and the décor is traditional but with a contemporary edge. Its food has been recommended but sadly not tried, while Hobgoblin and Ringwood Best were available on handpumps. It also serves good value food (more pies!) and has a pool table and outside patio.
The final pub I visited that afternoon was The Wagon Works. Formerly the Home tavern, this is one of Eastleigh oldest pubs. A friend had her 18th birthday party in the function room upstairs but that isn't used any more as far as I know.
Being a Wetherspoon's pub, this was obviously of a pretty good standard, with a great choice of real ales on draught. I can't really think of much  more to write than that, as it's a typical Wetherspoon's experience.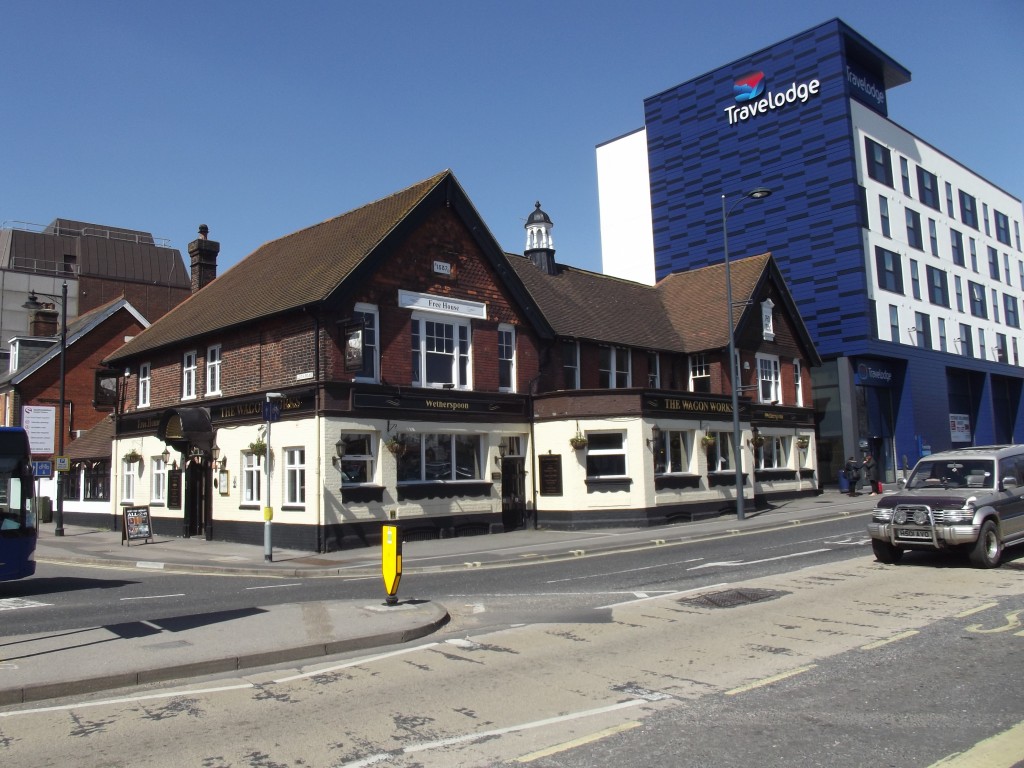 In the evening, I went somewhere a bit more local – The Firehouse. This is a heavy metal pub and the jukebox had some good punk tunes on. There are lots of men with long hair and beards and leather jackets. They had a live band on but they were too heavy for my linking. All roaring and head banging! I think this is somewhere I'll be visiting more often!
This 1950s building has similar architecture to the adjacent post-war Above Bar shops It has had many different names and brands in recent years, including Park Tavern and Strikers.
Tuesday 23 April 2013
It was a fine evening so I took the opportunity to check out another city centre pub. As it was St George's Day, I chose a very English pub – The Giddy Bridge. This Wetherspoons pub is always consistently good, as can be expected at the national managed pub chain's venues.
It was busy but I could get a table for my brief visit. They had ran out of a few ales, including the St George's day beer so I settled for a pint of Old Rosie cider – a potent brew and it was so nice to have some good cider instead of Strongbow (which I am bored of).
Thursday 25 April 2013
On another fine evening, I visited another pub – The Dorchester Arms. This was closer to home than I thought, being just under 10 minutes' walk away. It was very quiet, considering the football that was on TV but seemed fairly good. It's an entertainment-led pub, with no food available it appears (not that I am overly bothered about that). It has two bars; a larger one on the left, which has a stage in and at least three dartboards, and a smaller one to the right, which contains a pool table and leads to a smoking area at the rear.
It had three hand-pumps, with Courage Best available and it was a very nice pint; some places have ale that's hard work to drink. There are live bands on a regular basis, including Double Barrel and the Life of Riley – two of the Southampton pub circuit's most well-known bands.
To see this map cookies and javascript must be enabled. If you are still having trouble after having checked both of these please contact us using the link at the top of the page