Friday 10 May 2013
Week 7 kicked off on a rainy night in Bevois Valley. Apart from the Dorchester, this was my first foray into this very fertile field of hostelry. As with last week's excellent tour of South Freemantle, all three pubs visited were excellent and the only thing that spoiled it was the rain.
First up was the Shooting Star. This has won awards for being the best pub in Southampton and I wish I had visited it sooner. My previous (and only) visit in 2007 was when it was called 'Kolebka' and was a Polish jazz bar , although there wasn't much Polish about it. It is very different now. It has an excellent selection of real ales and a very commendable real Weston's cider and perry on draught. I've seen the cider before but this was the first time I have seen real perry and it was very nice.
There is a large garden at the rear with a big smoking shed as well. Inside is a pool table and jukebox. There is a DJ every Friday and they have different themes of music – punk, alternative, indie to name a few; these rotate each week. That's a great idea and the first time I have came across that. I'll definitely have to check out the punk night! There are also other events, including ale and cider festivals and family days where parents can inflict their badly-behaved offspring on the pub's adult customers!
Next up was Inferno Bar. This was closed for the duration of my original pub survey so it is my first visit under this name. However, I had visited it when it was previously the New Inn; it was a Gales pub and had good food as well.
As of 2012, it became under new management and it was certainly good when I visited. It calls itself 'Southampton's sport and music bar' and claims to be the only pub outside the city centre to have Sky Sports 3D. It screens all Saints games and apparently there is a great pre-match atmosphere. There is a pool table and 'beer pong' events – an unusual version of ping-pong featuring pints of beer.
It has a traditional food menu of simple meals (none of your pretentious gastro nonsense!)and breakfasts. There is a jukebox and karaoke night every Friday. This was in progress when I visited, although it appeared that nobody had volunteered to sing yet. While I was very tempted to inflict some Sex Pistols or Sham 69, it was an unknown audience and in any case, I had work to do.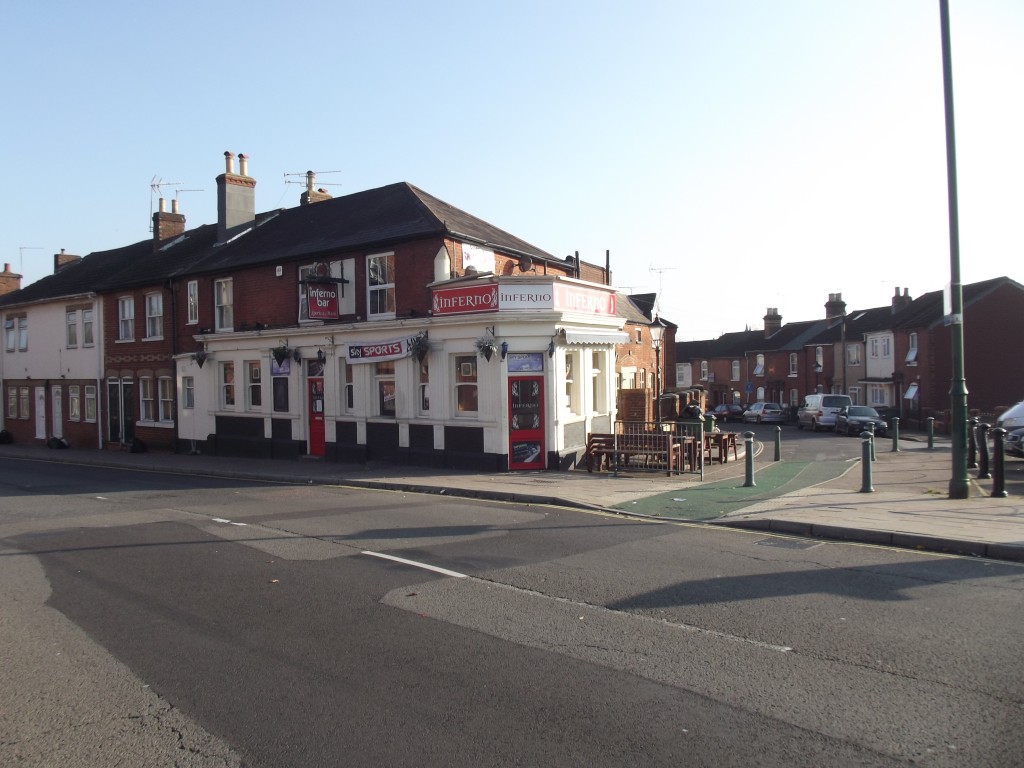 By this time, it was raining quite heavily. Good job the next pub was only across the road. As with the previous two, this was under a different name last time I surveyed it. The Rockstone, formerly the Bevois Castle, has always been a very traditional pub and it has been sensitively refurbished in the last couple of years. It is famed for its excellent and plentiful food, and also its range of drinks – not just real ale but spirits as well. The food is fairly expensive but the portions are huge and it looked very appetising. I must try it some time, although there is a lot of demand and tables get booked quite quickly.
There are no TVs, pool tables or other such pub staples and it is a nice break from all that stuff. Inferno Bar is great for that side of things. The Rockstone has a Monday quiz night and occasional festivals with live music. Apparently, there is a garden, but I could not see how to access it. It was absolutely heaving when I visited so it's another one for my list of good nights out.
Saturday 11 May 2013
I actually had a plan this time! My sister and her husband had offered to join me in checking out the Shirley area and trying some different venues so I made a map showing the 12 pubs that needed doing. Two of them (The Bellemoor and the Ice House were out on a limb so that whittled it down to ten. Obviously, doing all ten in one go would not be a good idea, so we decided to go for six, with a couple of shandies for me to prevent me getting too drunk!
First up was the Santo Lounge. Like its sister venue in Portswood, the Trago Lounge, this recently-opened pub was not there on my previous survey. A lot of pubs from my original survey have closed so it is rare to find some that have added to the total! Its laid-back cafe/lounge-style ambience is nice and there are no TVs or jukebox to distract people. It does get very noisy though when it is full. There was only one table free at the time of visit.
It serves food, although on the pricier side and has its house ale (Toga Man) on a handpump. It is family friendly (and has free colouring books) and has a quiz night, books and a selection of other games, such as chess.
Next up was the King's Arms. This is a very traditional Victorian pub and has fine stained-glass windows, decorative tiling and an attractive mural promising 'Genuine ales and stout'. Inside, the public bar occupies the original building, with a smaller lounge bar in a newer extension. There is pool, darts, Sky Sports and a jukebox. There is also a large beer garden at the rear. There was London Pride on draught and a second handpump that was not in use.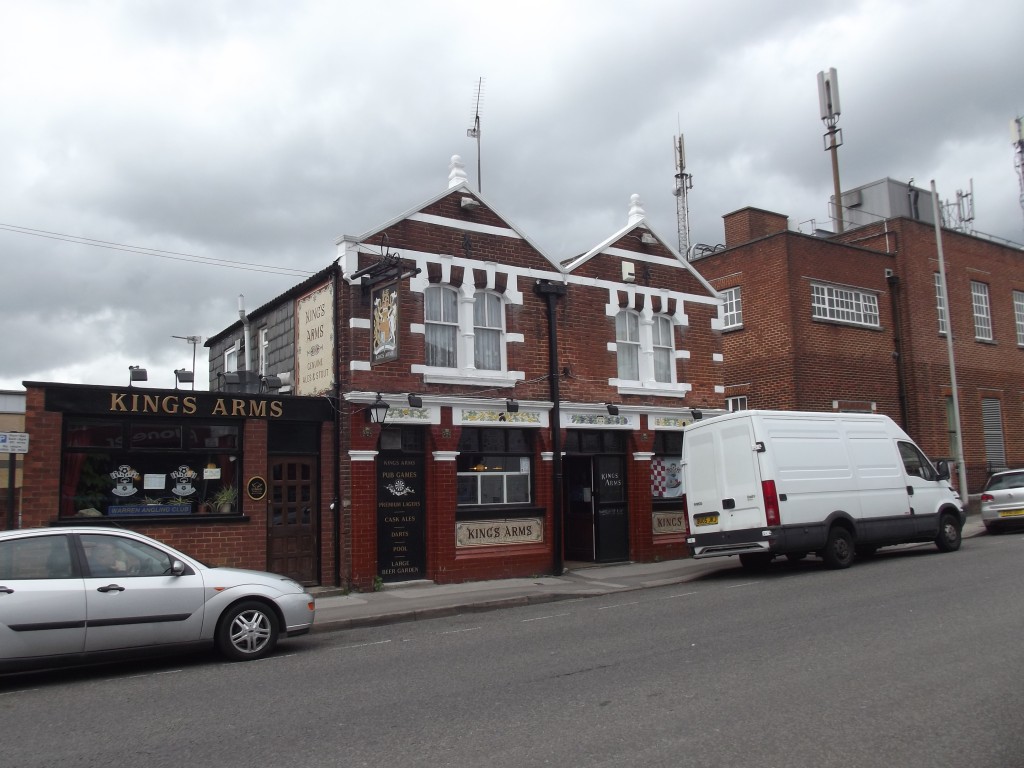 After a pit stop at the nearby Moby Dick chip shop (the best one in Southampton in my opinion (hmm, perhaps I should survey the chip shops of Southampton!), where everything was buy-one-get-one-free), the Shield and Dagger was the next pub on the list. This looks a bit dubious from the outside, as there are no windows on the main facade. It was opened in 1970 and so doesn't offer much from an architectural perspective; however, as a pub it seems quite nice. Inside is a large bar area (which is slightly reminiscent of a working men's club) and there is a large garden at the back. It does serve meals, although there wasn't much evidence of that (menus for example).  There are two ales on draught though – London Pride and Bombardier.
There is a pool table, dartboards, newspapers and Sky Sports and also some poker tables – this being a popular event on Wednesday and Sunday nights. There is karaoke on Friday nights, occasional live music and a pinball machine. The only other thing of note was a sticky floor around the bar!
Our next port of call was one of my favourite pubs in Shirley – the Park Inn. This, like many pubs in Shirley and Freemantle, is located on a back street, although very close to Shirley Precinct. It is a very traditional pub that is like being in somebody's living room. It's quite small and is comfortably-furnished in a traditional way. It is known for its fine selection of real ales, and as it is owned by Wadworth's, this includes 6X and Henry's IPA.
There is a dart board, weekly quiz night and traditional meat draw. While there's no beer garden, there is an attractive patio at the front with outside seating.
The Salisbury Arms was the penultimate pub on the list. Back to Shirley's main drag now, this traditional Greene King pub serves Greene King IPA on draught and has an unusual 'island' bar, where you can get served from all sides of it. There is a garden and smoking area at the rear.
The pub has a selection of books for sale (20p – bargain!), darts, Sky Sports, a jukebox and karaoke every Sunday afternoon/evening.
The final pub was the Bright Water Inn – a JD Wetherspoon Free House.  As can be expected with Wetherspoon pubs, the standard was very high, although I always think it's a bit gloomy in there. There's a superb variety of real ale, good value food and no music/TVs etc. There's a small covered smoking patio out the front and a bus stop opposite, making it very easy to get to/from the city centre and railway station. There are some interesting historical photos and articles on the walls, making a great way of learning about local history.
In the evening, I was intending to go in Provenance but it doesn't open until 10 and the weather was grim so I ended up in Revival again (at least you don't have to pay to go in until 10) and despite the fact they had no cider (again), they played a much better choice of music from the 70s and 80s.
On Sunday, it had threatened to rain, and although there were already some rather ominous clouds looming, it was dry when I set out. The first pub was The Fox and Hounds, in Bitterne. This rather traditional pub is located in a back street and like many of the other pubs over that side of the river, has two bars. The public bar is very small and was quite empty. The lounge bar is also quite small but there is an extra seating area down a few steps, which is odd in that there are no windows.
There is Sky Sports and a jukebox, and karaoke is advertised. There is a Sunday roast, although it isn't really advertised very much. At the rear is a smoking patio and large garden; the doors to which have another sign asking dog owners to dispose of their dog's waste in a responsible way. There is Doom Bar on the real ale front.
By the time I left, it had started raining, albeit fairly lightly. The next pub was just around the corner (or so I thought) – The Humble Plumb. This pub, located in Commercial Street, Bitterne (another back street really) is what is left of the Bitterne of old. You'd never guess that there were no less than three pubs there (as of my last visit in 2008). Going back even further there were more than that. This part of Bitterne has been amputated by its modern centre by the 1970s/80s bypass cutting a swathe through Bitterne.
Enough history! It seemed a lot further to the pub than I remembered. Had I taken a wrong turn or was it just the rain making time go slow? Never mind; I found it. This pub was formerly the Commercial Inn but has had its current name for the last decade or two. It is owned by Wadworths and has no less than TEN different real ales! Undoubtedly the best selection that side of the Itchen, although the Hop inn is also a contender.
The Humble Plumb is fairly traditional and has an upmarket food menu. Unfortunately, the tranquility was spoiled by a massive table full of screaming brats running round in circles. Their kids were pretty bad too. There is a small garden/smoke area and a real fire; it must make a cosy place to escape the cold and bitter Bitterne winters. Karaoke and quiz nights were advertised.
Having visited those two pubs meant that the only two pubs left in the North-East are the Fleming Arms and White Swan – both of which were too far to walk in the rain so my sights turned South – all that are left are in Woolston (or Newtown, which is even further) so I first tried the Swift Tavern, which was about to close for the day (closing at 4 pm?) and then The Obelisk. This was packed solid with football supporters avidly watching the TVs. It was packed so tightly that there was no way of getting to the bar. Luckily, the lounge bar was much quieter and made a welcome refuge from the inclement weather.
The Obelisk had a surprisingly-good range of ales, with regulars Ringwood Best, Doom Bar and Bass (wow, not seen that for years!) There was also a guest beer, which was Ballard's Midhurst Mild. It was apparent that this pub was a champion of real ale as there were even CAMRA beer festival fliers on the tables. As nice as it was, a resurvey will be necessary as the public bar needs checking out too.
My final stop was intended to be The Bridge but that was scuppered by another impenetrable wall of football supporters.
To see this map cookies and javascript must be enabled. If you are still having trouble after having checked both of these please contact us using the link at the top of the page