Saturday 1 June 2013
Our holiday started on Saturday 1 June 2013 and our first stop en-route was one of our regular watering holes at Oxford North services on the A34 – now known as 'Peartree Services'. Some superb Waitrose wine gums were bought here and provided a much-welcome companion to a fairly dull journey.
After that, we stopped at Milton Keynes, at a large Tesco supermarket – a far better choice than service stations with their overpriced shops and limited stock.
Our penultimate stop was in Cambridge –  a lovely city but with an expensive car park. We had dinner in Wetherspoon's (The Regal), which was nice, and then looked around some of the sights, including the Mathematical Bridge and King's College. Outside the latter there was a litter bin with a man busking inside. Random.
Our final quick stop was to kill time before we could access our holiday house and was in Wroxham. This is the only place in the country I have came across where the whole village's shops are owned and ran by one company – 'Roys of Wroxham'. There is a department store, pharmacy, clothes shops,  toy shops, DIY shop, garden centre and the Food Hall – a supermarket that although independently-owned by Roys, is part of the Nisa group of grocers.
The holiday house, on the north-western extent of Hoveton (Wroxham), is  a lovely and recently-refurbished 1960s chalet-style house. It has two bedrooms on the ground floor and a larger bedroom upstairs that takes over the whole upper floor (or at least the parts that are high enough to stand in).
The ground floor has an unusual feature – a 'Garden Room'. This sits between the lounge and garden, like a conservatory, but its only entrance is from the outside. So when sitting in the lounge, the light comes through the windows in the Garden Room rather than from outside. Apart from the unusual duvets with no buttons/poppers at the end, the house is very nice.
In the evening, I had a brief walk to check out the area around Wroxham's waterfront, and this was pleasant enough, although there is only one pub but lots of takeaways.
Sunday 2 June
We started off this morning by heading north towards Cromer, a relatively-pleasant although slightly down-at-heel seaside town on the North Norfolk coast. Although the town is famed for its crabs, it was most notable to me for the Arctic north-easterly winds that made walking around it a struggle.
Its nearby neighbour Sheringham is slightly more genteel and has some pleasant shops on the way towards a beach. It is dominated by its two railway stations – the original National Rail station  (a branch line from Norwich) and the very authentically-restored North Norfolk Railway station, which is a preserved railway now.
We had dinner in The Whiffler, a Wetherspoons pub on the Norwich outer ring road and then did our shopping in the nearby ASDA. The car park is on a hill and very confusingly laid out. What is of more interest is the sports centre building next door, which has a very unusual series of barrel-vaulted concrete shell roofs and also a square dome. The latter in particular evoked fond memories of the former Ordnance Survey canteen, which had a much smaller version of that design.
In the evening, I had a short walk 'around the block' so to speak and had to contend with a footpath that had been partly obliterated by the construction of a lot of new houses – presumably on 'green-field' land.
Monday 3 June
This morning, we headed towards Great Yarmouth. However, we first stopped briefly in Horning, undoubtedly one of the most scenic villages in the Norfolk Broads.
Great Yarmouth is a traditional seaside resort that is the closest contender to Blackpool I have found, in terms of being vulgar. It is arguably most famous for the one and a half piers that were owned by the racist, sexist and homophobic so-called comedian Jim Davidson but have since been sold – even if he owned the pier theatres then people still shunned his act – which is as anachronistic as Bernard Manning and the Black and white Minstrel Show.
Great Yarmouth has an excellent selection of seaside staples, such as numerous amusement arcades, including one with Prize Bingo (these are becoming increasingly rare), shops that sell CDs of country music/traditional Irish songs (which are played loudly on repeat in the shops), fish and chip shops and tacky gift shops, the best of which is Tickle's joke shop, the height of vulgarity, featuring an anamatronic of a man throwing up into an oil drum outside! Inside are such delights as fake turds.
I had a good dinner at the Britannia chippy and then played prize bingo briefly on the seafront.
On the way back, we stopped briefly at Tesco in Sprowston (on the north-east edge of Norwich).
In the evening, I took a long walk west, heading for the next village along the River Bure. Coltishall was a very pleasant surprise, with its lawns gently sloping towards places on the river where boats can be moored; adjacent to this was the Rising Sun pub, and sitting outside there, with its garden right next to the river was very pleasant indeed; and it was rather a tranquil setting.
On the way back, I decided to go on the main road so as to try a different route than the one I had arrived by. Unfortunately, it had literally been resurfaced a few hours before (and had only just been re-opened to the public)so had some very sticky tar and loose chippings all the way back to Wroxham station.
Tuesday 4 June
We started off in Norwich today. Once we had navigated the very confusing one-way system to find the car park, which was under the very impressive recent culture building called The Forum, we had a look around the shops and the market; a particular highlight was a TV memorabilia shop, where they had Merlin action figures and T-shirts – I didn't realise such things even existed! There was a massive new shopping centre development since the last time I visited and I was impressed by the amount of space devoted to shopping.
We had lunch in the Bell Hotel, another Wetherspoon's pub, in Norwich city centre, just a stone's throw from Norwich Castle.
In the afternoon, we parked in Wroxham itself and hired a boat from Fineway– we used them on our previous visit and so they were our first choice this time. We hired a motor boat for two hours and had a nice cruise – this part of the Norfolk broads has a speed limit of no more than 5 mph so we went along the River Bure and only got as far as Horning, but we did go off the river into two of the broads (these are like small lakes connected to the river by channels). The broads were Wroxham Broad and (the much smaller) Salhouse Broad.
In the evening, I went to check out the only remaining pub in Wroxham (I think there were at least two others that have closed relatively recently). The King's Head is a surprisingly large and very food-led pub, boasting a popular carvery. They had three ales, although none of them were of particularly interest. I didn't spend long in the pub itself – as it backs onto the river next to Wroxham bridge so it would have been a shame not to sit outsode. Sadly, it was a bit windswept and the hope of seeing visiting ducks and geese was not satisfied by a large crowd of adolescent pigeons that were breaking up what looked like a rock-hard bread roll into pieces small enough to fit into their beaks. Then there were some sparrows, which were a bit more of a rarity.
Wednesday 5 June
This morning, we headed towards the North Norfolk coast, on the picturesque A149 road through villages such as Blakeney and Wells-Next the Sea. However, time was tight and we reached our destination, King's Lynn in time for lunch at the Globe Hotel, another Wetherspoons pub.
On the way back, we stopped at Hunstanton, which I was pleasantly surprised by in terms of its features as a seaside resort. The journey back to Wroxham, inland this time, seemed to take a very long time.
Thursday 6 June
One of the nicest places on the Norfolk Broads was our main destination today. Horsey Windpump is ideally situated between the pleasant sheltered lake of Horsey Mere and the Norfolk coast.While the windpump itself is very interesting, and is a great place to park because of its toilets, shop and cafe, our intention this time was to head east towards the coast.
The sea is approximately a mile from the car park and goes across some very low-lying agricultural land. This is protected by a massive sea defence feature, consisting of a continuous bank of sand dunes with occasional concrete gaps that can be quickly stopped up if bad weather is threatened.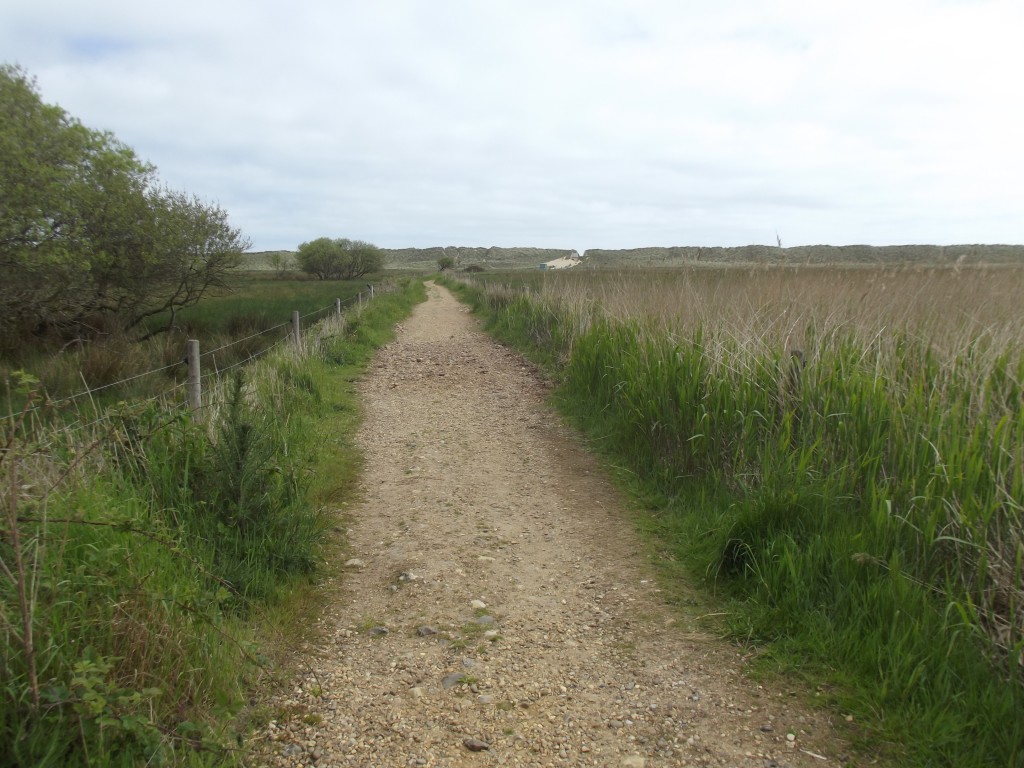 The beach is famed for the seal population that is regularly spotted there and there were two seals in the sea and very close to the land – we could see their heads in the water. Sadly they didn't come ashore but it was still great to see them at all, as they can be somewhat elusive and wary of humans.
We had lunch in The Whiffler again, and much to my annoyance, their Wi-Fi wasn't working. However, my boredom was quelled by a short walk to the ASDA that is virtually next door. This was a very frustrating experience as a pedestrian, due to the poorly-designed car park and approach roads.
Later in the day, I went for a long walk to another nearby village – Neatishead. While not as picturesque as Coltishall, it had a nice traditional pub called the White Horse.
Friday 7 June
We headed east again today – to Sea Palling, which is a small and pleasant seaside village near Horsey.
We then continued onto Horsey itself and parked at the windpump once more. This time, we had a pleasant walk in the nature reserve round Horsey Mere.
Next, we had a look around Ranworth; another pleasant village in the north-central area of the Norfolk Broads.
Afterwards we had lunch in The Whiffler again; however, fortunately, the Wi-Fi had been repaired.
Finally, I paid a visit to the Kings Head.
And finally…
Last updated on Tuesday 18 June 2013 by GaryReggae