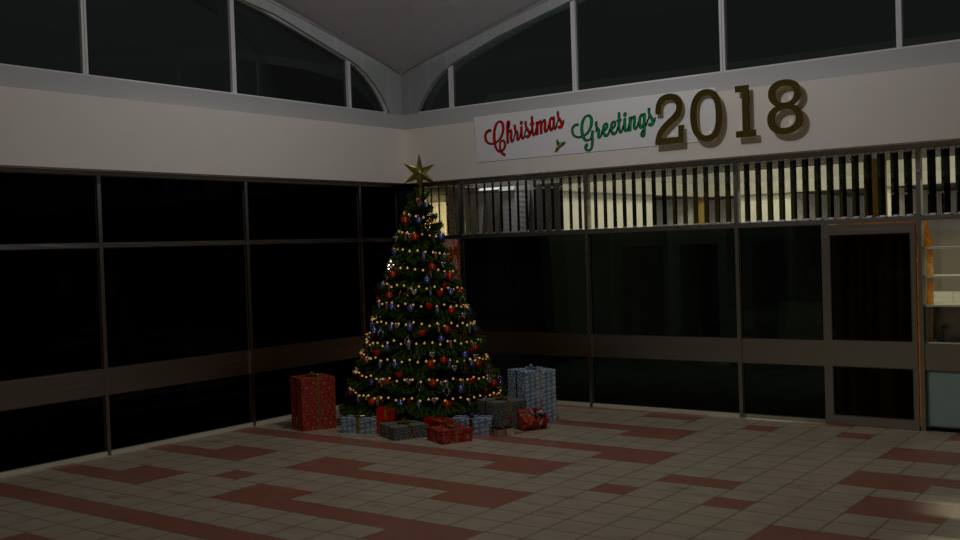 Making a festive scene from various Blender models has became an annual tradition for me; some of the previous ones have been in a space like a small TV studio. The studio type lighting and illusion of a completed room that actually only has two sides fitted in there worked well but I have ran out of ideas for the contents. This had various props, including the bar from the OS Staff Restaurant, TVs and other technical equipment. I can model that stuff well but trees of any type are definitely outside of my capability so I have had to use free models from Blend Swap and other model libraries.
This year, I was unable to find any free Christmas tree models that satisfied my requirements so I have purchased one for around $10 and spent some time converting to Blender format. This was quite ingenious as it used alpha maps (a type of image file used to denote transparency) to define the geometry and thus greatly reduced the vertex count of the foliage but I am very happy with the end product.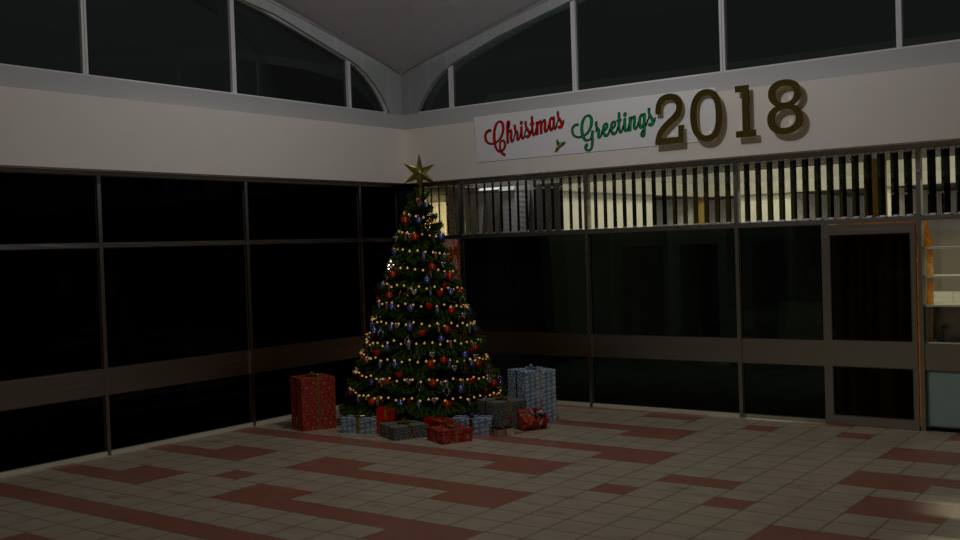 The metal/glass 'screens' are almost finished now although for this render I rushed a couple of aspects to get this finished in time. I will complete these before continuing further work on the main building (this Christmas scene is a separate model with the building aspects linked to the main Blender file of the Restaurant. The glass is definitely too dark but in the absence of any decent curtains then that is good as it hides the incomplete kitchens area that can be seen through the glass louvres. The glazing to the left of the Christmas tree is where the stair lobby is, this is complete apart from the doors, which are almost finished.
There is a small orange curtain immediately to the right of the tree but that is using a 70s wallpaper design rather than the actual patters that was on the curtains. The curtain modem is from a 3rd party and is good but just not very wide. I am confident I will be able to make my own curtains using Blender's amazing cloth simulation, the tricky part is attaching the hooks at the top. I am in the advanced stages of redrawing the curtain's pattern from one of the Maybush Christmas lunch photos (below).
I made the 'Christmas Greetings' banner myself using various fonts with the intention of recreating something similar to the above.
The next steps:
Finish the servery screen and install on site
Finish the internal metal doors for the SE screen and entrance lobby, these may also be used for the waitress area/Common Room.
Finish other internal doors, these are pretty simple.
Install the wooden internal glazing to the kitchen areas.
Rebuilding the kitchen roof, the biggest job on this list.