This site contains historic photos and memories about Ordnance Survey and its staff, buildings, equipment and more.
NOTE: this site is completely unofficial and is not endorsed by Ordnance Survey. It is purely for the interest of those who happen to have worked for Ordnance Survey at some point in the past.
I have tried to correctly acknowledge the content here but if there are any photos of people you wish not be published here then please let me know and I will remove them.
I'm a former member of staff and the content has been contributed by myself and other former/retired staff. This started as a place to store all my photos and research about the history of post-war operations at Crabwood/Maybush but is very much under construction. As I am building a 3D model of the Maybush HQ then this material is a vital source of information but will also hopefully include content from other sources.
Many of the headings below don't have any content yet so the links aren't live but I have absolutely tons of content waiting in the wings, mostly from the now-defunct OurWiki site but some newer stuff as well.
Buildings
Maybush
The William Roy Building (WRB) – originally known as Central Block – was designed to house the entire map production process – from drawing to printing. It served this role until March 2011, at which point is was formally vacated. It was demolished in spring/summer 2012.
A covered concrete structure between William Roy Building and Compass House fronted by a unique reinforced concrete mural.
Originally designed to store large reserves of paper maps, back when large scale products were published in this way. More recently, the upper floors were used to house IT Services, Photogrammetric Services and various administrative departments. West block was eventually demolished in 2012, as part of the site's redevelopment.
North Block (Compass House)
Arguably the most important building at the Maybush site was the Staff Restaurant with its iconic domed roof. It was a single-storey building constructed in 1967 and had full-height glazing on the external elevations from the main dining area, making it a light and airy space. Behind this was a large fully-equipped commercial kitchen with a clerestory roof.
Services Block was a large single-story double-height building located to the rear of Maybush site. It had no physical connection to the rest of the building (except for underground services).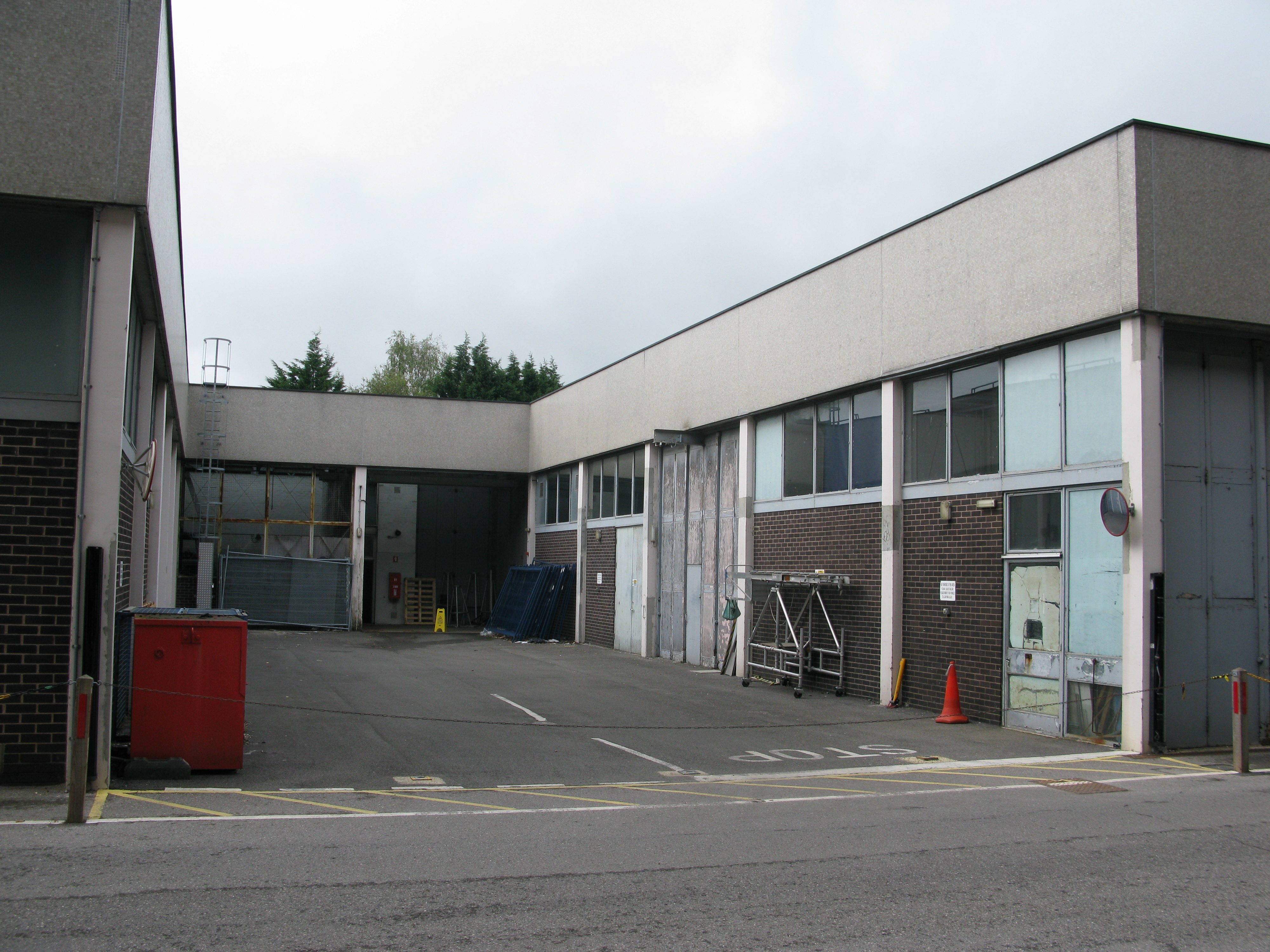 Location of the main heating and cooling equipment for the entire Maybush complex; while not a separate building, it was attached to a corner between the WRB and West Block.
The Substation was a small building near F core that controlled the incoming power supply for the entire Maybush complex.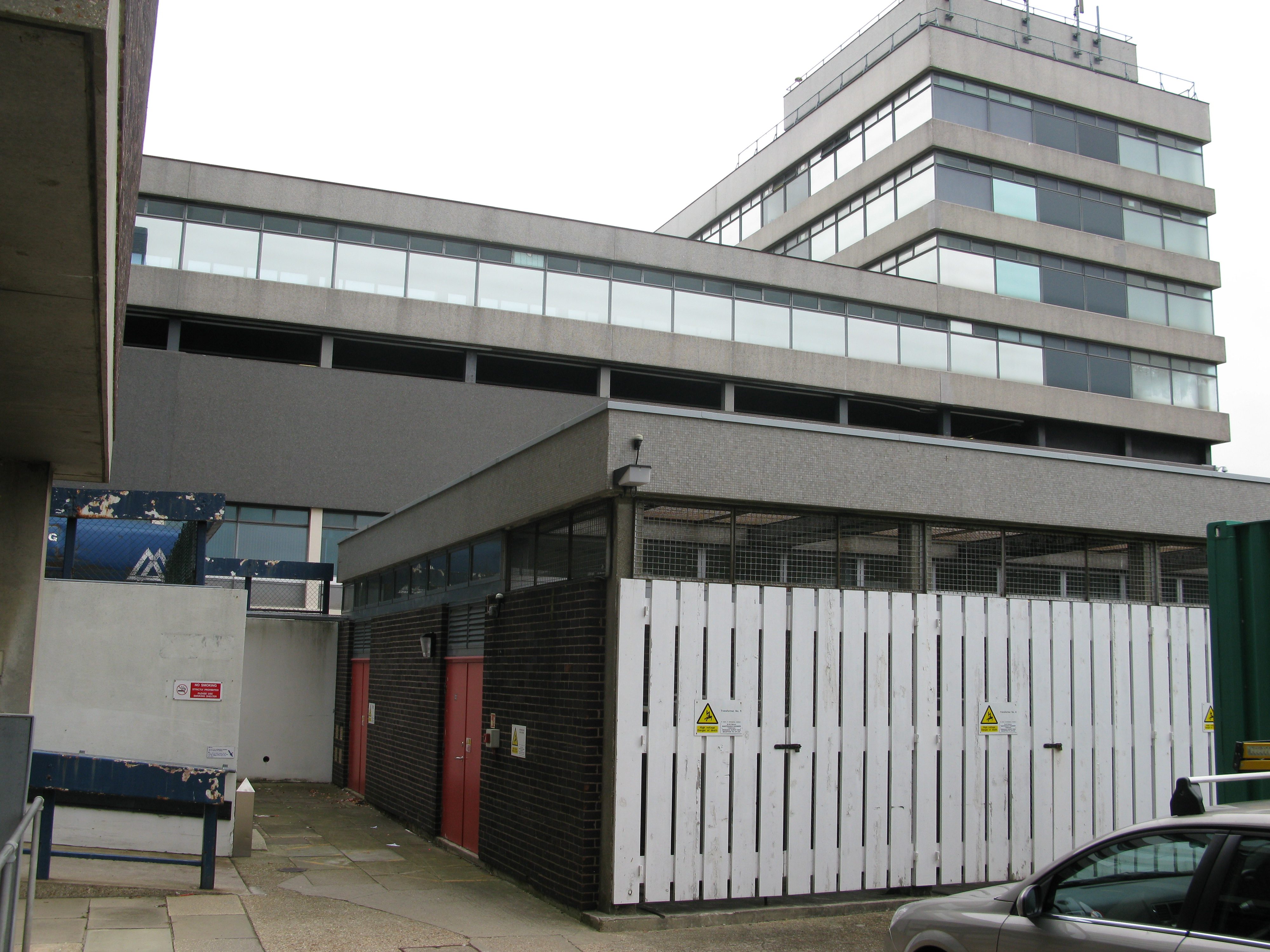 Crabwood House
Crabwood House is a Grade II listed building that was requisitioned by Ordnance Survey during World War II and was used for accommodation/training until the new Maybush building opened. It was then used as the home of the Ordnance Survey Sports and Social Club (OSSSC) and had a bar and rooms for various social clubs. It was mothballed in the early 2000s and has recently been converted to flats.
The grounds
The Maybush buildings were surrounded by attractive landscaping, including ornamental trees and ample space for outdoor activities. Needless to say there were also several extensive car parks but the main focal point of the grounds is 'The Mound', a 'bund' of earth that was excavated during construction of the building foundations and crowned with a trig pillar.
(1940s to 1990s)
til late 1960s
Ordnance Survey's HQ was in Chessington, Surrey after London Road was devastated by WWII bombing. The huge complex of hastily-built single-storey brick huts was head office until the move to Maybush in the late 1960s although many functions remained at London Road and Crabwood.
Hinchley Wood, in Surrey, was a small outpost of Ordnance Survey's temporary head office in Chessington. It was established in 1941 and was of similar construction to the huts at Chessington and OSO Crabwood; that is, single-storey huts connected by a central spine corridor.

Field offices
Digital Field Update System (DFUS)
Explorer House
(2010 to now)
Systems and equipment
Repro (printing etc)
Surveying
Stores/warehouse
Events
Charity fundraising
Bicentenary Fete
Royal visits
People and memories
Media
Videos, documents and more…
Ray Tull has created an excellent YouTube channel featuring videos about OS staff history – from the 1969 opening ceremony to the Bicentenary celebrations.
British Pathe short films
The British Pathe archive is one of the best collections of short documentaries published between 1910 and 1970, with over 90,000 different items, Three are three exclusively about Ordnance Survey and these are all available online:
Look at Life – On The Map
The Look at Life series was presented by the Rank Organisation for showing in cinemas – I think they decided to make these instead of newsreels. They are about numerous subjects, from industry to leisure. This film entirely dedicated to Ordnance Survey goes into more detail than the British Pathe films, mainly featuring surveying – largely a manual process using plane tables etc – prior to EDM.
Links
Historic maps
The National Library of Scotland has an excellent archive of historic Ordnance Survey maps that can be viewed online: https://maps.nls.uk/
Last update
Added Romsey Road redevelopment photos from 2012
Added a new page for the Port Cochere
Last updated on Wednesday 27 April 2022 by GaryReggae